The Future of Agriculture is Becoming More Specific

The food industry is demanding and expecting increased traceability with food grade crop products. The food industry wants to know when, where, and how food is produced and handled. Richland IFC is an industry leader in quality specialty crop production. The process begins with ensuring seed purity and is carried through step by step to the final phase of quality assurance analysis broken down by individual grower lots. These high standards of our system ensure that Richland IFC not only meets but also exceeds our customers' expectations.
Soybean Production
Richland IFC's production region is extremely favorable for high quality food grade soybean production. In addition to the fertile soils of the area, the Red River Valley is also blessed with above average rainfall. This region experiences long warm days and cool nights which promotes high quality soybeans. While being in the northern tier of the U.S. soybean production region, the area experiences little to no pressure from most soybean insects and diseases.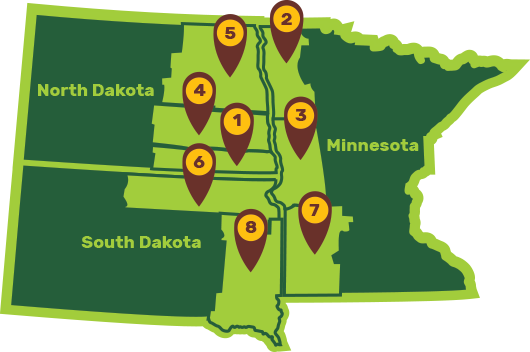 Organic Blue Corn Production
The Red River Valley and surrounding states are home to one of the highest concentrations of certified organic acres in the US. Many of our producers are pioneers in the organic crop production farming revolution. Our blue corn was specifically bred for the northern corn production regions of the Midwest. The region provides high rainfall with low pressure from insects and disease. This combination allows Richland IFC to supply some of the highest quality blue corn anywhere in the world.